Diagnostic Kit(Colloidal Gold)for Luteinizing Hormone
Product Detail
Product Tags
Diagnostic Kit(Colloidal Gold)for Luteinizing Hormone
For in vitro diagnostic use only 
Please read this package insert carefully prior to use and strictly follow the instructions. Reliability of assay results cannot be guaranteed if there are any deviations from the instructions in this package insert.
INTENDED USE
The kit is used for qualitative detection of Luteinizing Hormone (LH) levels in human urine samples. It is suitable for predicting the time of ovulation. Guide women of childbearing age to choose the best time to conceive ,or guide safe contraception.This test is a screening reagent. All positive sample must be confirmed by other methodologies. This test is intended for healthcare professional use only. Meanwhile, this test is used for IVD, extra instruments are not needed.
PACKAGE SIZE
1 kit /box, 10 kits /box, 25 kits,/box, 100 kits /box.
SUMMARY
LH is a glycoprotein hormone secreted by pituitary gland, it exists in human blood and urine, which can stimulate the release of mature eggs in the ovary. LH is secreted during the middle period of menstruation, and the forming LH peak, it rapidly rised to the peak of 25-200 miu/mL from the basic level of 5-20 miu/mL. LH concentration in urine is usually sharp rise in 36-48 hours before ovulation, peaks in 14-28 hours. The amount of LH in the urine usually rised sharply around 36 to 48 hours before ovulation, and reached the peak at 14~28 hours, the follicular membrane ruptured at about 14 to 28 hours after the peak and discharged the mature eggs. Women are most fertile in the LH peak within 1-3 days, therefore, detection of LH in urine can be used to predict ovulation time[1]. This kit based on colloidal gold immune chromatography analysis technology for the qualitative detection of LH antigen in human urine samples, which can give a result within 15 minutes.
ASSAY PROCEDURE
1.Take out the test card from the foil bag, put it on the level table and mark it.
2.Discard the first two drops sample, add 3 drops (about 100μL) no bubble sample verticaly and slowly into sample well of the card with provided dispette, start timing.
3.The result should be read within 10-15 minutes, and it is invalid after 15 minutes.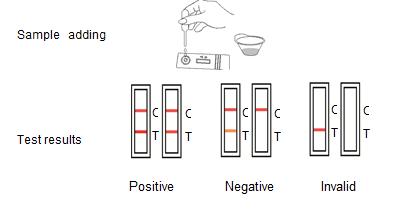 ---
---
Write your message here and send it to us