China Accurate Diagnostic kit for Calprotectin CAL Rapid Test Kit Cassette Device
Product Detail
Product Tags
INTENDED USE
Diagnostic Kit for Calprotectin(cal) is is a colloidal gold immunochromatographic assay for the semiquantitative determination of cal from human faeces, which has important accessory diagnostic value for inflammatory bowel disease. This test is a screening reagent. All positive sample must be confirmed by other methodologies. This test is intended for healthcare professional use only. Meanwhile, this test is used for IVD, extra instruments are not needed.
SUMMARY
Cal is a heterodimer, which is composed of MRP 8 and MRP 14. It exists in neutrophils cytoplasm and expressed on mononuclear cell membranes. Cal is acute phase proteins, it has a well stable phase about one week in human faeces, it is determined to be a inflammatory bowel disease marker. The kit is a simple, visual semiqualitative test that detects cal in human faeces, it has high detection sensitivity and strong specificity. The test based on high specificit double antibodies sandwich reaction principle and gold immunochromatographic assay analysis technics, it can give a result within 15 minutes.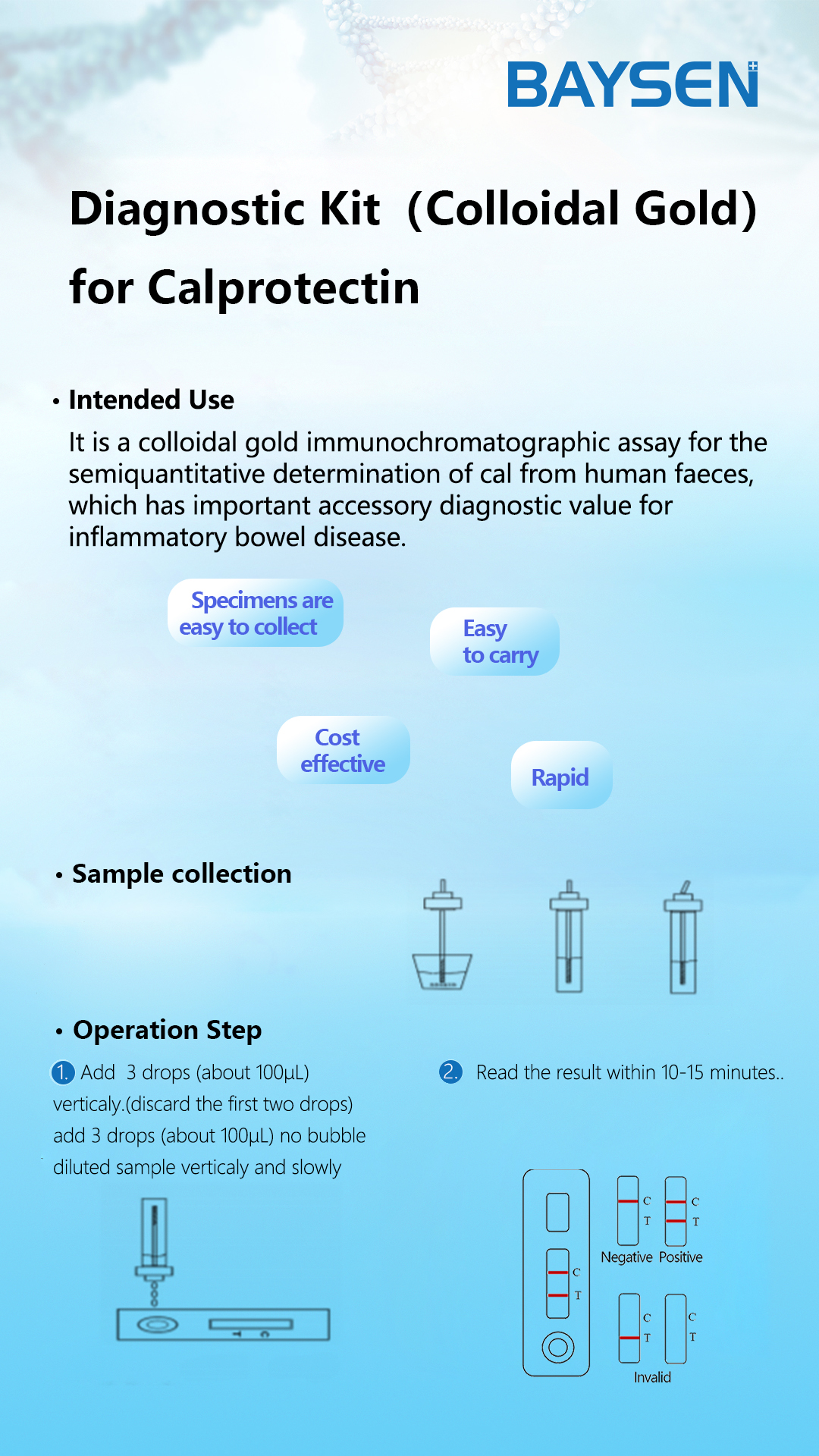 STORAGE AND STABILITY

1. The kit is 12 months shelf-life from the date of manufacture. Store the unused kits at 2-30°C. DO NOT FREEZE. Do not use beyond the expiration date.
2. Do not open the sealed pouch until you are ready to perform a test, and the single-use test is suggested to be used under the required environment (temperature 2-35℃, humidity 40-90%) within 60 mins as quickly as possible.
3. Sample diluent is used immediately after being opened.
---
---
Write your message here and send it to us